My Story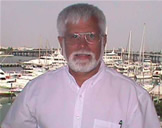 My Name: Russ Thomas Age: 66 Marital Status: Married, 37 years Home: Daytona Beach, Florida Education: Bachelor of Business Administration - Management Special Skills: Dreaming Big, Administration, Computer Programming, Web Design Occupation: Entrepreneur for God
My dad was in business for himself; he owned a photography studio in my hometown of Madison, Wisconsin. I don't know if that is where my interest in business came from, running in the family and all. Either way, I believe I got the Passion for business from God.
The first business I owned was a Texaco gas station along the Interstate near Madison from 1973 - 1975. How that happened is a story in itself. Anyway, a customer used to stop on his way home from work and witness to me. Saving faith grew and few months later I gave my heart to the Lord and became a born-again, spirit-filled Christian.
I remember being in prayer one morning back in 1987. At the time I was a struggling self-employed computer consultant in Madison. I don't remember exactly what I was praying about, but all of a sudden I felt impressed by the word, "I will make of you a great company." I thought that was pretty cool, as it reminded me of God telling Abraham that He was going to make him a great nation, except His word to me seemed to pertain to business. Naturally, I expected my business to turn around that very day! But it didn't. However, I did keep plugging away, and several years later found myself making about $150,000 a year doing pretty much the same thing as I had been doing. I was quite pleased, but not wise. Through credit, I managed to acquire lots of nice things and basically spent everything I made. We were tithers and gave to Missions occasionally, but that was about it as far as being good stewards of our money for God's work was concerned.
With me being able to service my main client via the Internet, we moved to Florida in June 1998 in order to enjoy year round boating. I knew that this client was eventually going to invest in a new computer system someday that would cause them to no longer need my custom programming services. Since I had grown somewhat bored with programming I thought I would try something new, something in line with my recreational passion, so I embarked in the field of Yacht Brokerage in the fall of 2000. The brokerage business was on a downswing so I quit the end of June 2001. I loved that business, but it just didn't work out for me.
In July, I located three computer stores in Colorado that were for sale. In early August, I received a call from the client in Wisconsin. They were moving forward with their conversion to their new system, and I was out of a job with them. By then, that client was my only source of income.
We refinanced the five acres that we had purchased a couple of years prior, took the money and moved to Colorado intending to buy a house and those three computer stores. The house deal went through but the stores didn't pan out. So there we were, living on the little money that was left from the refinancing of the land and no income still. I ended up leasing a small combination cellular and satellite tv services store in the small town that we were living in, but it didn't do all that well. We ended up losing the house to foreclosure in 2002.
We had been riding very high for a number of years, but the Colorado experience was very humbling indeed. Yes, we had made some mistakes, and there were some who thought we were being punished for them, but all through that I always felt we were just being prepared for something big in the future.
We moved back to Florida in the summer of 2003. My wife took a fulltime job. I have had a few short-lived jobs working for others, but mostly I have been involved in Internet Marketing all the while looking forward to the "great company" that God has had for me.
Through specific words that God has spoken to me in the past two years I know that I am on the verge of it. And it is going to be bigger than I can even imagine! You see, the bigger the struggle, the bigger the blessing. And although I have a fair amount of education and experience in business God has told me that He is going to teach me His way of doing business -- and I am going to teach others!! When it comes right down to it, God doesn't call the qualified; He qualifies the called.
"He who has ears to hear, let him hear." Business happens to be one of my passions. I know God isn't calling everyone to be in business, but I believe He wants every one of His kids to live in financial abundance. He has established principles to follow for that to happen, and He wants them taught to those who will listen. Are you one of those people?
My Story